Ingredia provides feedback on using Connecting Food's blockchain platform to ensure the traceability and auditing of Via Lacta milk
On Thursday, November 14, Aliénor Drago, product manager at Ingredia and Stefano Volpi, co-founder of Connecting Food, were Philippe Ducellier's guests at the Blockchain Paris Show, at the Cité Universitaire de Paris. Here is a look back at their conversation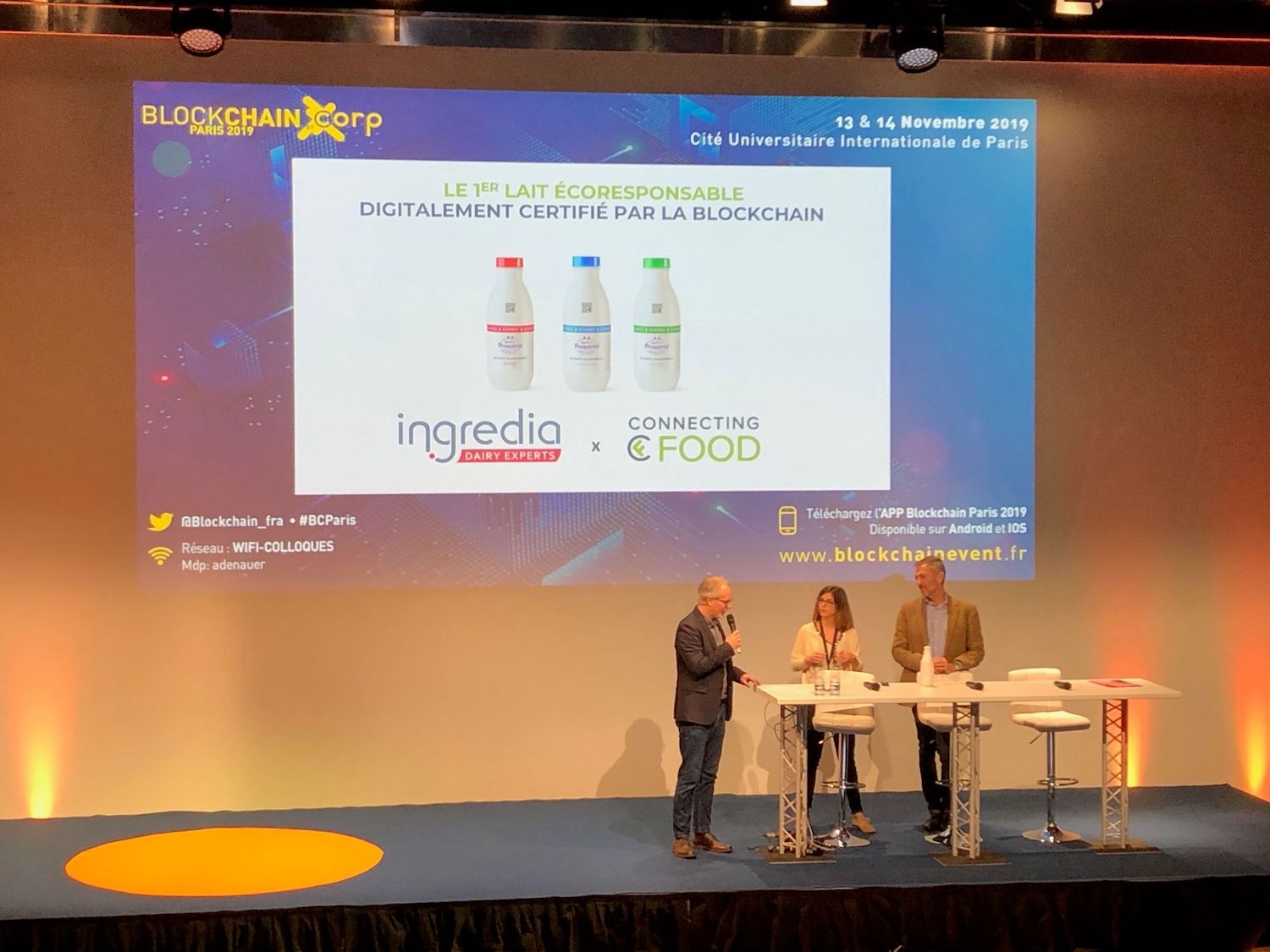 On Thursday, November 14, Aliénor Drago, product manager at Ingredia and Stefano Volpi, co-founder of Connecting Food, were Philippe Ducellier's guests at the Blockchain Paris Show, at the Cité Universitaire de Paris. Here is a look back at their conversation.Philippe Ducellier: What was the business driver behind this Blockchain project? Aliénor DRAGO: Since 2017, the Ingredia group has been the first to develop a differentiated collection of eco-responsible milk. This milk is called Via Lacta grass-fed milk. Our commitments are reflected in strict specifications based on 4 strong pillars: animal welfare, milk quality, the environment and the farmers' remuneration. We focused on 4 specific criteria among these specifications: access to pasture guaranteed with at least 170 days of pasture per year and a minimum surface area per cow of 1500 m 2, GMO-free certified feed and 100% regional Hauts-de-France origin of farms and dairies. These criteria meet consumer expectations: environmental and animal welfare awareness, sensitivity to ecological issues (agricultural practices, animal welfare, etc.), the impact of food on health; as well as the fact that consumers attach more importance to healthy ingredients than to a brand, lifestyle change, a push for authentic products with more local consumption. Today, these expectations go even further. Consumers do not have confidence in the agri-food sector and the overabundance of labels makes them suspicious. In addition, the consumer has started digitizing the purchasing process, seeking transparency and the verification of information on his own accord. This blockchain project with Connecting Food therefore makes it possible to: – to go further with our eco-responsible milk approach, – to maintain our position as a pioneer in innovation in the dairy sector, – to meet the increasing consumer demand for total transparency for our UHT milk and to provide a turnkey solution for our industrial customers in the food industry for eco-responsible ingredients.
Philippe Ducellier: Today, what is the status of the project? Is it a PoC, is it in production? Aliénor DRAGO: The project is in production; data is recorded throughout the supply chain, at each collection/delivery, and the QR code printer is in place and operational on the production line.  The milk bottles will be in store in early 2020. Concerning our milk proteins and milk ingredients range, the launch is scheduled for the Food Ingredients Fair (FIE) in Paris in early December 2020. Stefano Volpi: Indeed, the project is well in production. We first ran a pilot for a few months before industrializing the process, so that data could be recorded automatically in the plants and throughout the supply chain. For Connecting Food, this project, which was carried out throughout 2019, has really taken us to the next level, since we are now truly on an industrial scale. Philippe Ducellier: Why did you choose a blockchain over another technology? Aliénor Drago: We chose blockchain technology rather than the use of a database for 2 main reasons: o The blockchain is more secure and the data entered is unfalsifiable, which seemed important to us in a context of total transparency, o It is a distributed and therefore decentralized register, which is totally in line with our cooperative model, where we wanted each actor in the chain to be involved: cow feed suppliers, breeders, collectors, the dairy. Stefano Volpi: The use of the blockchain is especially useful for sharing information between different actors whose business interests may be opposed. For example, in food stores, a supplier and his customer will not have the same interests or needs. The fact that the blockchain operates without a central control body is also a key point. By using this technology, it is possible to avoid intermediaries: the blockchain plays the role of a trusted third party. Philippe Ducellier: Can you tell us more about the choice of technology (Bitcoin, Ethereum, etc.)? Stefano VOLPI: Connecting Food has chosen to use Hyperledger Fabric: it is a blockchain with permissions, accessible only to authorized members of the consortium. – It is more adapted to business: sometimes we associate blockchain with unlimited data sharing with everyone, but this is not the reality of blockchain projects in the industry: we want to share data but by choosing how and with whom. Hyperledger Fabric allows you to do this by setting up a consortium and setting up specific rules for each actor. – It has a lower environmental impact, since it does not require mining. This aspect is very important for the agri-food sector and in particular for Ingredia, which produces an eco-responsible milk. Another very important point is our total independence from established players in the sector that offer blockchain solutions: SAP, IBM, or Amazon all offer services, but we have developed our own solution on Hyperledger, while taking care to ensure interoperability with all the others.
Philippe Ducellier: On the Ingredia side, why did you choose Connecting Food over other blockchain technology suppliers? Aliénor DRAGO: We chose to work with Connecting Food on the one hand for their agri-food knowledge throughout the supply chain: ingredient suppliers, agri-food industries, and retailers that corresponded to the sector with which we wanted to engage. Also for their technical and specialized skills in the field of blockchain. In addition, the LiveAudit®module offered by CF fully corresponds to our desire to be able to digitize our production specifications and certify these criteria in real time, in addition to recording them on the blockchain. Philippe Ducellier: What were the main challenges that had to be met (skills, involvement of partners in the Blockchain, etc.)? Alienor DRAGO: The first challenge for us was to really go back upstream in the supply chain and involve people from outside the group, such as cow feed suppliers, in the process. The main technological challenge for us was to find the dynamic printer to insert the QR code directly on the bottle and maintain the current production line speed. Finally, the human challenge of working on a technical project – while we are experts in the agri-food sector, we also had to build up our skills on these new subjects. But this is Ingredia's strength in innovation: we are a "small" cooperative on a human scale but with great ambitions, which makes us agile and allows us to carry out projects quickly. Stefano VOLPI: Ingredia's project was very ambitious from the beginning: it was not just about traceability, not just about a single audit criteria, and not just about one product reference. We had to get up and running to trace 3 references (milk, powder, protein) and audit 3 criteria of their specifications all at once!  We had never worked on such an important scope before: it was a great challenge for us, which we enjoyed thanks to a great collaboration between the Ingredia & Connecting Food teams! Ingredia was also our first real industrial-scale customer: in January 2019 when we started working together we hadn't done any project of this scale, and this project allowed us to industrialize. In 8 months, we have grown in strength and started working with several other customers.
article contributors
by Paola Mangano